Mini Van Rental in Africa, Congo, Uganda, Nigeria, Kenya, Tanzania, & Rwanda.
Car Rental Congo is a local car hire company that offers various fleets for rental to private persons and organizations on short and long term rental. Among the fleets offered include the Mini Van that carry 7-14 pax offered in Kenya, Nigeria, Uganda, DR Congo, Rwanda and other operational countries.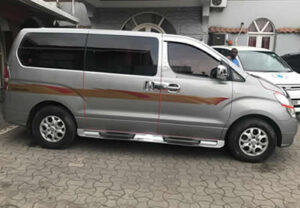 Car Rental Congo specializes not only in 4×4 Land Cruiser but also offers mini vans for hire in all locations.
Mini Van Rental In DR Congo.
Looking for a Min van rental in Congo? Car Rental Congo offers vans, minivan and full-size van rentals to all locations in Goma, Bukavu, Kinshasa, Kisangani, Brazzaville, Pointe Noire & Butembo for luxury and comfortable transfers. We provide van rental services for those interested in traveling Congo.
If you need a spacious vehicle to travel with your family, friends or massive luggage, our van rental is a perfect solution for that purpose! Get a premium luxury minivan for hire in Congo on short and long term projects from our wide range of cars available at Car Rental Congo.
Car Rental Congo makes it easy to hire a Minivan for all your travel needs in Congo at affordable prices. Our Minivans have discounted car rental rates with flexible pick-up and drop-off options. Get a cheap airport car rental available right when you land. When you book your car rentals with Car rental Congo, you can be confident that your rental car is from a reputable car hire agency and with great discounted rates.
---
Working Air Conditioning
4×4 Gear
Insurance
Manual Transmission
Experienced Driver
Diesel
New Models
High Clearance